HZB HySPRINT & CENER-SOLPVLAB Infrastructures' presentation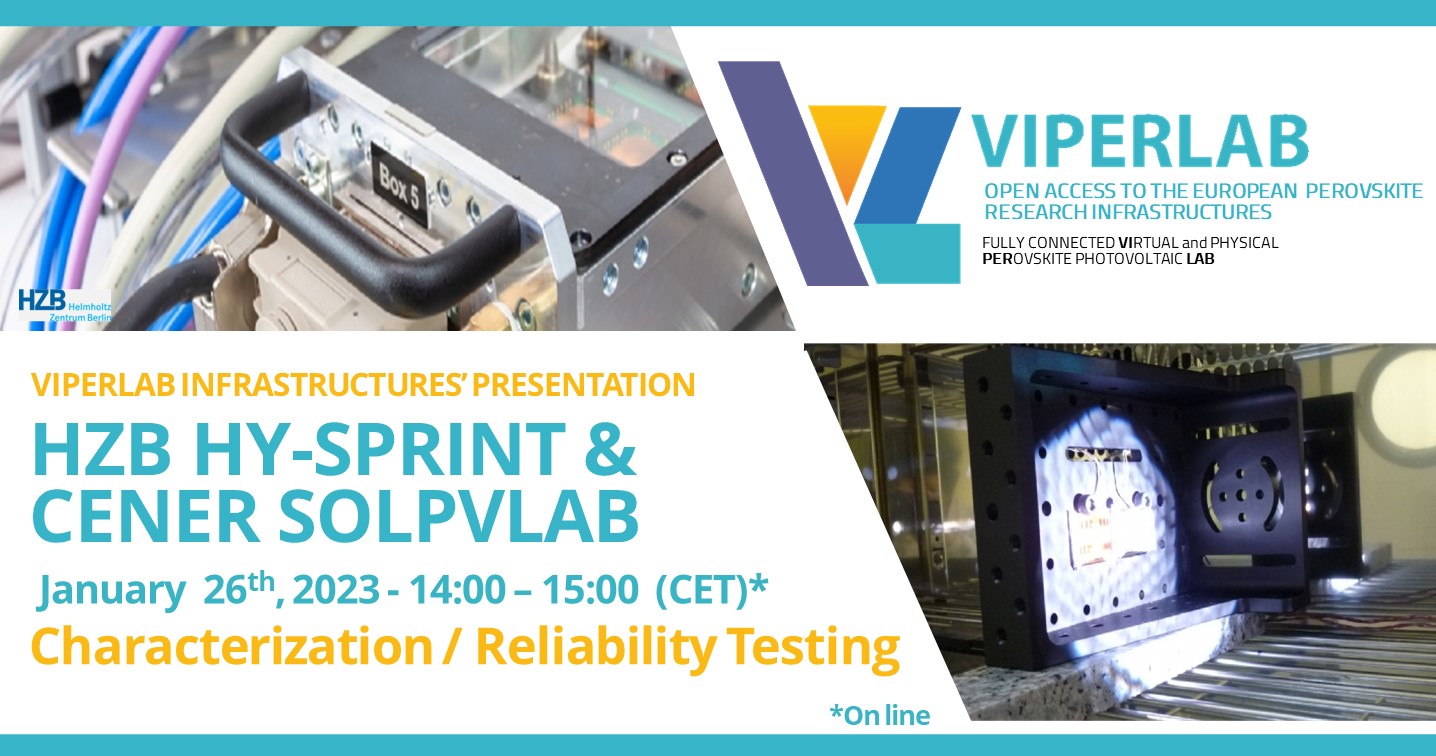 To participate click the button at the bottom of the page
VIPERLAB is an H2020 EU-funded project bringing a network of Europe-based scientists and research organizations in Perovskite PV. The mission of VIPERLAB is to facilitate faster and reliable technology evaluation cycles to enable a swift market entry for Perovskite-based PV products and hence a more wide-spread utilization of renewable energy conversion technology.
H2020 VIPERLAB Project offers free access to the state-of-the-art perovskite EU infrastructures that cover the whole innovation/value chain from material preparation to characterization of perovskite devices and modules.
Perovskite solar cells may provide efficient, low-cost energy production. On other hand the stability of perovskite devices must be addressed to achieve commercialisation.

The key factors influencing the stability of the devices are the exposure to oxygen and moisture, UV light, solution processing and thermal effects. Encapsulation and standard testing protocols are required to check and improve stability.
On January 26th, 2023 14:00-15:00 (CET) we present two very interesting VIPERLAB Research Infrastructures offer state of the art equipment for the Perovskite Stability testing of materials and device
HZB - HySprint – Stability Lab

The Helmholtz Innovation Lab HySPRINT is equipped with two very relevant equipment for stability testing

The first offers opportunities for long term measurements and ageing of a very high number of single-junction PSC and monolithic tandem solar cells (e.g. PSK/Silicon and PSK/CIGS) under realistic conditions, being operated at their Maximum Power Point (MPP). This allow high throughput as well as a high level of statistical confidence. The High-Throughput Aging-System is equipped with electronics that allow the infrastructure to MPP-track more than 380 solar cells in parallel.

The second instrument, is a Tandem Ageing-System, equipped with electronics that allow us to track 20 tandem solar cells in parallel. As the performance of monolithic tandem solar cells is strongly dependent on the utilized spectrum, an array of 193 LEDs with two different peak wavelengths in red and blue light was engineered. The 470 nm and 940 nm centre emission wavelengths are absorbed in the top- and bottom cell, respectively. Both intensities can be tuned independently to adjust the desired photocurrents of the subcells, to artificially induce a mismatch between the subcells in a controlled way. The cells are measured in ambient conditions with a controlled temperature of 25°C

Photo: Contacted Probe-box @ HySprint (© HZB)

Infrastructure video presentation

here

CENER SolPVlab is an EC Accredited PV Module testing Lab offers state of the art equipment for the development and application of specific protocols to characterize photovoltaic devices based on different non-concentrating/concentrating PV technologies organic and perovskite materials. The infrastructure offer both custom-made stabilization, and aging and reliability testing based on approved standards such as IEC standards for all PV technologies: IEC-61215-1(all subparts), IEC61215-2, IEC-61730-(1&2) , IEC-62108, IECTS60804-1 (PID) and IEC TS 60904-13 (EL).

Taking advantage of the experience gained through their application in many products of different technologies, degradation protocols based on accelerating aging tests ISOS (ISOS-D, ISOS-O, ISOS-L, ISOS-T and ISOS-LT) from Basic (level 1) to Advanced (level 3) combining humidity – temperature and radiation in climatic chambers and outdoor test can be implemented in order to study the degradation factors for emerging PV technologies

Photo: Stabilization test of a Perovskite Solar cells@ CENER

Infrastructure video presentation here
Informations
The deadline to participate expired on 25 January at 10:00 CET.
Post-event access to videos and slides has already been offered to registered attendees.
If you are also interested in accessing stay tuned!! Click link below to participate and follow the instruction
Contacts to get more information about this event and VIPERLAB Project:
👉

Click here To Participate
| | | |
| --- | --- | --- |
| | | Videos/slides will come very soon |
In the meantime, register on the KEP platform if you haven't already done. And come back to this page to finalize your interest to access to the post-event videos/slides. Access is offered to registered users only.
To participate in this event log in with your free account and come back to this page to finalize your registration. Otherwise, if you aren't yet "registered" on the KEP Platform "click" on the "register" button , complete the form and come back here.
You can also continue without signing up in KEP by using the button below, but why we warmly invite you to it?
We pay the utmost attention to the protection of your personal data but we need it for our statistical reports to the European Commission.
Furthermore the most complete and fastest browsing experience is only offered to KEP's registered user. By "subscribing" to KEP, you will avoid entering your personal data every time and you will also be able to access KEP's restricted areas, for example the webinar slides, videos, documents and any other relevant information could be very useful to you. By providing your personal data you accept our privacy policy