EPFL And CSEM Smash Through The 30% Efficiency Barrier for Perovskite-on-Silicon-Tandem Solar Cells
[Project Update]

Viperlab's partners at the Photovoltaics and Thin Film Electronics Laboratory (PV-lab) of EPFL and at CSEM's Sustainable Energy (SE) center teamed up to demonstrate 1-cm2 perovskite-on-silicon tandem solar cells with a power conversion efficiency above 30%.
Perovskite solar cells were deposited on two types of silicon heterojunction solar cells, one with a flat architecture on its front side to simplify the perovskite deposition process, and one with a textured front side to improve the optical properties of the device.
The planar device reached a power conversion efficiency of 30.93%, while the textured one achieved 31.25% - two results that were independently certified by the National Renewable Energy Laboratory (NREL) in the United States.
World record!!!!!
This is the first time that a certified power conversion efficiency surpasses the 30% milestone without using III-V semiconductors, which are costly and scarce.
While numerous efforts are still required to make perovskite-on-silicon tandems a commercial success, notably to scale up the device dimensions and improve operational stability, these results validate experimentally the high efficiency potential of the technology.
More details regarding these results can be found
In congratulating the team that has achieved such relevant and remarkable results, some of the equipment that was used to produce these record devices is made accessible to external users through Viperlab.
Info about the infrastruicture: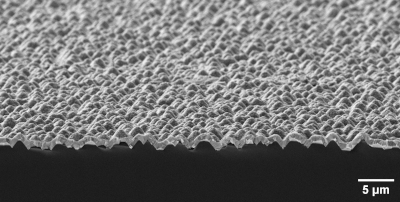 Scanning electron microscopy image of the front side of a textured perovskite-on-silicon tandem, where the perovskite top cell is deposited directly on the pyramids of the Si cell.