TNO possesses a research infrastructure enabling the complete process of perovskite modules on an area up to 6-inch squares. The key equipment includes sputter tools for depositing transparent conductive oxide (TCO), sheet-to-sheet (S2S) slot-die coaters under inert and ambient conditions for perovskite and carrier transport layers (CTLs), S2S spatial atomic layer deposition (sALD) tools for CTLs and buffer layers, S2S laser interconnection tools with safe processing of toxic materials, and S2S glass/glass or glass/thin film barrier encapsulation tools. With respect to each equipment, reproducible material processes have been developed in order to fabricate efficient and stable perovskite modules. So far the 6 inch perovskite modules processed at the infrastructure of TNO shows an aperture-area efficiency of 13~14.5% in a semi-transparent configuration and 15~16% in an opaque configuration. Furthermore, the encapsulated perovskite modules can retain over 90% of their initial performance after over 1000 hours of light soaking, damp heat and thermal cycling tests respectively. In addition, next to rigid substrates, the line can also handle flexible substrates and can thus be utilized to process flexible perovskite modules. Figure 1 shows the pictures of perovskite cells and modules processed on rigid and flexible substrates.

Figure 1 pictures of various devices: a) small cells processed on 6-inch substrate, b) semi-transparent rigid module, c) opaque flex module
One important application of perovskite solar cells is to form tandem devices with some commercialized PV technologies such as Si and CIGS. At TNO there is know-how for making perovskite cells directly on silicon wafers and devices with extremely high near-infrared transparency. This enables the manufacturing of two terminal and four terminal devices. This infrastructure can facilitate the tests of new materials and device architectures with reproducible and scalable processes and thereby the perovskite PV technologies can be investigated in both large-area modules and common small lab cells with good statistics.Fig 2 illustrates the key equipment which enable the fabrication of 6-inch encapsulated perovskite modules.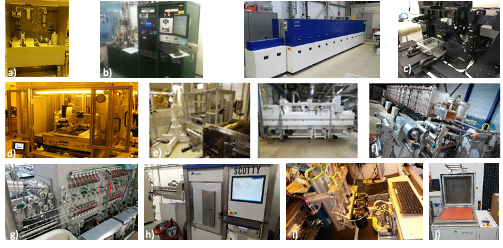 Figure 2 pictures of equipment for the complete process of 6 inch perovskite module: a) Glass cleaning facility, b) two sputter tools for TCO and metal , c) laser system for scribing, d) S2S slot-die coater, e) automated S2S coating system with slot-die coater and oven, f) roll-to-roll slot-die coater and oven, g) spatial ALD, h) e-beam evaporator, i) ink-jet printer and j) encapsulation tool