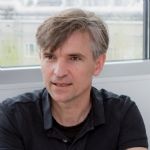 Sjoerd VEENSTRA
Program Manager
TNO & Solliance
Role in the project : WP8-JRA2 Leader Advanced device processing infrastructure - Contact point for TNO in VIPERLAB.
email : Sjoerd.veenstra@tno.nl
Short Bio
Sjoerd has a passion for photovoltaics (PV). He received his PhD from the University of Groningen. Sjoerd stayed at UCSB (intern) and Cornell University (visiting scientist). He started as a researcher working on organic solar cells at the Energy research Center of the Netherlands (ECN) located at that time in Petten (NL). In 2011 he moved to Eindhoven (NL) to join the thin film PV activities of Solliance and started working on perovskite solar cells at the end of 2014. Since 2018 he works for TNO and leads the perovskite solar cell team. As of 2019 he is program manager perovskite solar cells of Solliance.