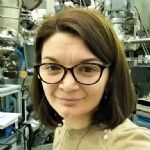 Natalia MATICIUC
Postdoc Researcher
Department Solution Processing of Hybrid Materials & Devices
HZB-Helmholtz-Zentrum Berlin
Role in the project : Technical Manager of the Project.- WP11 leader and fully involved in the transnational access organization and management
email : natalia.maticiuc@helmholtz-berlin.de
Short Bio
Dr. Natalia Maticiuc received her bachelor's (2008) and master's (2010) degrees in physics from the State University of Moldova, after which she obtained a PhD in chemistry and materials technology from Tallinn University of Technology (Estonia) in 2015, where she studied chalcogenide thin films for photovoltaic applications in CdTe and kesterite solar cells. Since 2017, Dr. Maticiuc is at Helmholtz-Zentrum Berlin (Germany) focusing on CIGSe absorber surface analysis and implementation of inorganic HTMs in perovskite-CIGSe tandem devices. Since 2021 she is actively involved in coordination of VIPERLAB project.
Webinars

[1] - Took place on Feb, 08th 2022
Modelling, high performance computing and efficient access to data sets based on data reported in the literature and experimental work are important tools to accelerate research in the field of photovoltaic perovskite, and beyond. With this workshop VIPERLAB presents the importance of these topics for materials science technology and how the 4 virtual infrastructures of Viperlab project can support researchers from academy'and industry, with free access to their computing, modeling tools and the available datasets.
---