VIPERLAB first public Event
[WORKSHOP]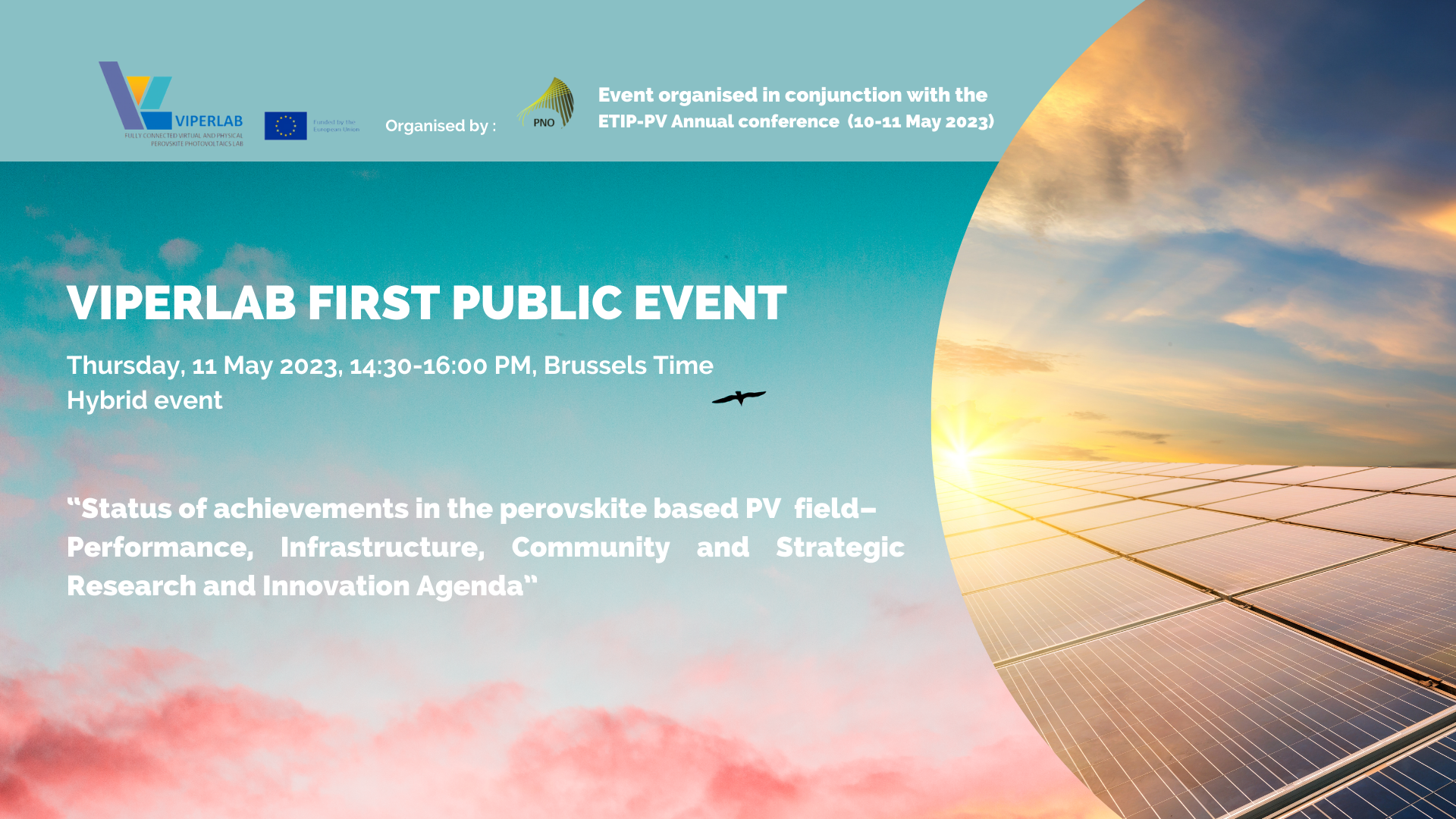 VIPERLAB 1st Public event
in conjunction with the ETIP-PV Annual conference
on Thursday 11 May from 14:30 to 16:00 PM Brussels time
Perovskite solar cells have shown remarkable progress in a very short time with rapid increases in efficiency, from reports of about 3% in 2009 to 32.5% today. Perovskite tandem solar cells are getting momentum as was highlighted by the German Chancellor Olaf Scholz recently in the World Economic Forum 2023 in Davos, and are now backed up by important community and infrastructures for their further development.
VIPERLAB 1st Public event is proposed in a hybrid format in conjunction with the ETIP-PV Annual conference on Thursday 11 May from 14:30 to 16:00 PM Brussels time
The physical venue is located in VBO 4 Rue Ravenstein 1000 Bruxelles Belgium where the ETIP-PV annual conference will take place outline from 10 to 11 May 2023.
This public event is part of the VIPERLAB EU funded project and is meant to shed light on several topics related to the status of achievements in the perovskite PV field:
present the status of community and infrastructures available in Europe to develop them further
the latest achievements in their performance,
their market perspectives,
the efforts being exerted to develop a strategic Research and Innovation agenda to provide guidance to different stakeholders to accelerate their development and market introduction.
Additionally a panel discussion will be organized with key stakeholders from industry and policy representatives to discuss the main barriers that need to be removed to facilitate the market deployment on massive scale of perovskite based PV.
Programme
see agenda below or download it
The event will be also completed by a Panel Discussion on
The European PV solar Industry alliance and its impact on new PV manufacturing in the EU
The most important technical barriers that still need to be removed in the perovskite supply chain to make it a reality
The main harmonization/standardisation challenges in perovskite PV before we can align industry for massive deployment
How do we see the future production of new solar modules in Europe and how to avoid the pitfalls we had with the silicon-based solar industry and modules 10 years ago
Panel Discussion
Speakers
Mr. Jacek Truszczynski,


EU DG GROW

Prof. Rutger Schlatmann,


HZB

Dr. Tony Sample,




EU-JRC

Dr. Stephan Abermann,


AIT

Dr. Johan Lindahl,


ESMC
Moderator

Dr. Nader Akil,
PNO Innovation
Informations
To reg

i

ster in 1st VIPERLAB Public event
More information on ETIP-PV Conference
To register in ETIP-PV Conference
VIPERLAB 1st public event is an hybrid event but We welcome your presence in person to efficiently boost the discussion. ETIP-PV conference is proposed as outline conference, only.